LATEST DEVELOPMENTS
48 journalists have been killed in Gaza since October 7, according to the New York-based Committee to Protect Journalists.
Israel published video of what it described as a tunnel dug by Palestinian militants under Shifa hospital. Hamas denied the claim.
31 babies have been evacuated from Shifa Hospital and will be taken to Egypt for care.
The Israeli army said five more soldiers had been killed in fighting in the Gaza Strip, raising the number of troop deaths there to 64 since the war began.
Israel published video Sunday of what it described as a tunnel dug by Palestinian militants under the Gaza Strip's Shifa Hospital, a focus of its search-and-destroy missions against Hamas militants.
While acknowledging that it has a network of hundreds of kilometers of secret tunnels, bunkers and access shafts throughout the Palestinian enclave, Hamas has denied that these are in civilian infrastructure like hospitals.
In Sunday's update on operations at Shifa, the Israeli military said its engineers uncovered a tunnel 10 meters deep and running 55 meters to a blast-proof door.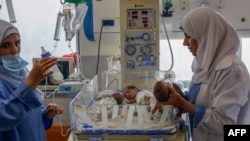 Palestinian medics care for premature babies evacuated from Al Shifa hospital to the Emirates hospital in Rafah in the southern Gaza Strip, on Nov. 19, 2023.
'This type of door is used by the Hamas terrorist organization to block Israeli forces from entering the command centers and the underground assets belonging to Hamas,' said a military statement accompanied by video showing a narrow passage with arched concrete roofing, ending at a gray door.
Also Sunday, at least 31 very sick, premature babies had been evacuated from Shifa Hospital and will be transported to a hospital in Egypt, the World Health Organization said.
The New York-based Committee to Protect Journalists (CPJ) said, so far, 48 journalists and media workers are confirmed killed in the region since the Oct. 7 Hamas attack on Israel and the subsequent Israeli offensive began.
Watch related video by Arash Arabasadi:
Embed share Possible Peace Deal Could Bring Pause in Fighting to Gaza Embed share The code has been copied to your clipboard. width px height px
No media source currently available
The CPJ, whose list covers journalists killed on both sides, said its list of those killed comprised 43 Palestinians, four Israelis and one Lebanese.
'Journalists across the region are making great sacrifices to cover this heart-breaking conflict. Those in Gaza, in particular, have paid, and continue to pay, an unprecedented toll and face exponential threats,' Sherif Mansour, CPJ's Middle East and North Africa program coordinator, said in an email to Reuters.
In the West Bank, two Palestinians were killed overnight during Israeli raids on the occupied territory.
While the Israeli army said Sunday five more soldiers had been killed in fighting in the Gaza Strip, raising the number of troop deaths there to 64 since the war began.
This picture taken from southern Israel shows Israeli flags flying over destroyed buildings inside the Gaza Strip on Nov. 19, 2023,
All five died in northern Gaza, where its forces are engaged in a ground operation against Hamas militants, the military said.
The Middle East has been a tinderbox since Iranian-backed Hamas launched a terrorist attack on Israel on Oct. 7, killing at least 1,200 people while taking about 240 people hostage, Israel said. Israel's retaliatory strikes and ground offensive have killed more than 12,000 Palestinians, about 5,000 of them children, according to the Hamas-run Gaza Health Ministry.
On the diplomatic front, Michael Herzog, the Israeli ambassador to the U.S., told ABC's "This Week" show that Israel is "hopeful we can get a significant number of hostages [held by Hamas] freed in the next few days," with an accompanying short pause in the fighting, possibly lasting five days.
U.S. news reports say about 50 hostages, particularly women and children, of the estimated 240 held by Hamas could be returned to Israel, but it is unclear whether and how many Palestinian prisoners held by Israel might be released.
Palestinians fleeing the fighting in war-torn Gaza walk on Salaheddine road in the Zeitoun district of the southern part of the Gaza Strip, Nov. 19, 2023.
Herzog refused to call any cessation in fighting a cease-fire, signaling that Israel plans to resume its attack on Hamas targets after the pause ends.
White House deputy national security adviser Jon Finer told CNN's "State of the Union" show that the U.S. believes it is "closer than we have been perhaps at any point since these negotiations [over the hostage release] began weeks ago."
He said, "There are areas of difference and disagreement that have been narrowed, if not closed out entirely," while adding that no deal has been reached.
"One of the challenges associated with this is we're not on the ground in Gaza, the United States," Finer said. "We are not in direct contact with Hamas. We do that only through intermediaries. And so, we don't have perfect fidelity about exact numbers of hostages, including numbers who are still alive."
Dozens of displaced Palestinian civilians were killed or wounded Saturday in Israeli airstrikes, including one on a school in the Jabaliya refugee camp in northern Gaza, the United Nations Relief and Works Agency for Palestine Refugees reported.
'The scenes were horrifying. Corpses of women and children were on the ground. Others were screaming for help,' wounded survivor Ahmed Radwan told The Associated Press by phone of Israel's attack on the camp's Fakhoura school. Photos from a local hospital showed more than 20 bodies wrapped in bloodstained sheets.
In a statement Sunday, United Nations Secretary-General Antonio Guterres said, "I am deeply shocked that two UNRWA schools were struck in less than 24 hours in Gaza."
"This war is having a staggering and unacceptable number of civilian casualties, including women and children, every day. This must stop. I reiterate my call for an immediate humanitarian cease-fire."
The Israeli military said that its troops were active in the Jabaliya area 'with the aim of hitting terrorists' while trying to minimize civilian harm.
Some information for this article came from The Associated Press, Reuters and Agence France-Presse.